What Is The Cheese Boat Pizza?
The Cheese Boat Pizza Is A Must-Have For Any Pizza Lover
Source: US Pizza
The Cheese Boat Pizza is a must-have for cheese and pizza lovers visiting US Pizza Malaysia. This unique pizza is shaped like a boat, with an abundance of creamy cheese filling in the middle for a heavenly cheese pull experience. The Italian herbs provide the perfect level of flavour that will tantalise your taste buds and leave you craving more.
The crust is crispy on the outside and fluffy on the inside, perfectly holding in all that deliciousness. Even better, it's topped off with an egg that adds richness and extra creaminess to this delightful dish.
For those looking to get creative with their pizzas, this one should be at the top of your list. Whether you're having a cosy night in with friends or just treating yourself to something special, our Cheese Boat Pizza is sure to hit all the right notes.
Origins Of The Cheese Boat Pizza
The Cheese Boat Pizza Is Inspired By Georgian Dish, Adjaruli Khachapuri
Source: US Pizza
Our signature Cheese Boat Pizza is inspired by a dish originating from Georgia called Adjaruli Khachapuri. Forbes described it as "The Best Cheese Pizza" in 2017. Originating in Adjara, in the Southeast of Georgia, the Khachapuri is a staple in a Georgian meal just like pizza is to Italians.
The traditional version is made with layers of thin dough filled with cheese and topped with an egg. This savoury pastry is often served as a main meal or snack, enjoyed by locals and tourists alike.
Adjaruli Khachapuri dates back to at least the 18th century when it was first mentioned in historical records. It's believed to have been developed by the local population, who had used simple ingredients easily found in their surroundings to create this delicious dish.
The dough was made from wheat flour, eggs, and salt. Then, it is stuffed with both fresh and aged cheese to form various shapes. Some were shaped like a boat, and that's how the name "cheese boat" came about. As time went on, other ingredients such as herbs and spices were added to enhance the flavour and aroma.
Today Adjaruli Khachapuri remains a popular delicacy among Georgians because of its delicious, savoury taste. It can be found in many eateries around Georgia, especially those serving traditional dishes such as khinkali or lobio stew. 
Why Cheese Boat Is Malaysia's New Favourite Pizza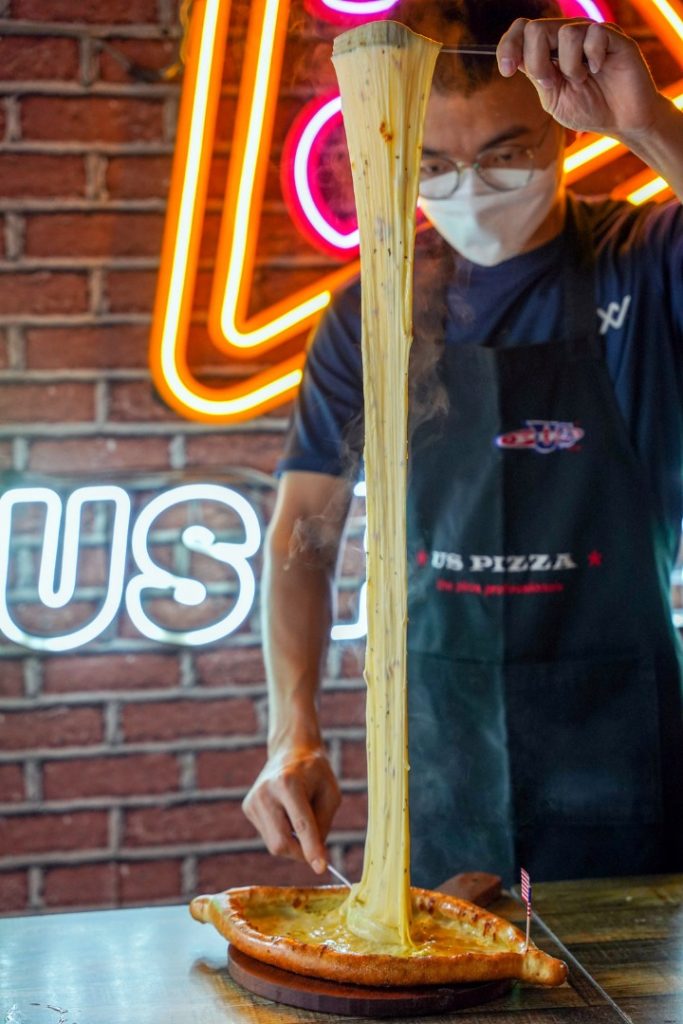 Pizza Lovers Enjoy Our Signature Cheese Boat Pizza
Source: US Pizza
Unsurprisingly, this unique pizza is now turning into a fan favourite for pizza lovers all over Malaysia.
Malaysians are known for their love of cheese. Many vendors have even started incorporating cheese into traditional snacks such as "Pisang Goreng Cheese" and "Keropok Lekor Cheese".
It is only natural for Malaysians to absolutely love US Pizza's Cheese Boat. With its massive foot-long cheese pull, unique boat-shaped crust, fresh ingredients, and the full creamy flavour from the egg, it's no wonder people are raving and craving. 
Plus, at US Pizza, this menu item comes with three different types of cheese to satisfy every cheese lover's taste buds.
Not only is the Cheese Boat Pizza incredibly tasty, but it also makes for a great photo moment when shared with friends. With its eye-catching look featuring mounds of melted cheese spilling out of the crust, there's no doubt this pizza will make all your Insta-friends jealous!
Win Cash Prizes & Free Pizzas From US Pizza Malaysia
Win Cash Prizes & Free Pizzas From US Pizza
Source: US Pizza
How does some free pizza and cash prizes sound? With our latest #CheeseboatChallenge on TikTok, all you have to do is upload the most creative video of yourself enjoying a Cheese Boat Pizza, complete with the hashtag #CheeseboatChallenge and you can stand a chance to win cash prizes!
TikTok not your thing? Don't worry. You can also redeem a free pizza if you download our official app.
Satisfy all your pizza cravings today with US Pizza. Whether you're in the mood for a traditional pizza or you want to try a unique flavour, you can order a pizza online in Kuala Lumpur, Klang Valley, and Penang. Check out our pizza menu to see our latest monthly specials, and try one of our Chicago Style or limited edition pizzas in Malaysia.